Hand Made Pens
I make these in my shop out of solid billets of Damascus steel and silver tubes. Additional key efforts include the application of guilloché to the silver pens by employing the old art of engine turning
The collaboration effort with Conway Stewart on the Metalwrite RR1 series shown down further on this page was nominated by Pen World for the Best Metal Mastery Reader's Choice award!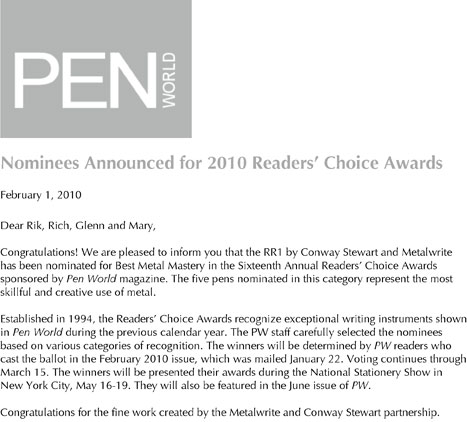 Here's a link to some movies and additional pictures about how all some of this is done. Click here!
Parker Duofold Centennial replica made from solid Eggerling Damascus steel (not for sale)
Parker Duofold International replica made from solid Eggerling Damascus steel (not for sale)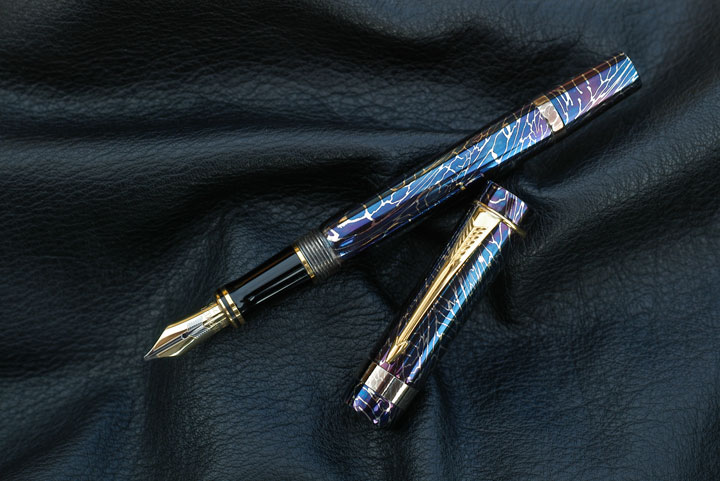 __________________________________________
Collaboration effort with Conway Stewart - the limited edition RR1 model with silver guilloché barrels, Damascus stoppers, and sterling silver clip also with guilloché. The pen is available with both fountain nib and rollerball point. MSRP $1595.
Additional Information about this pen can be found on www.Argentblue.com and www.Metalwrite.com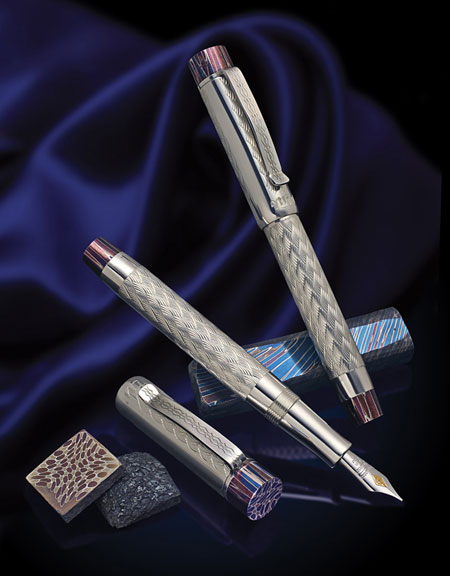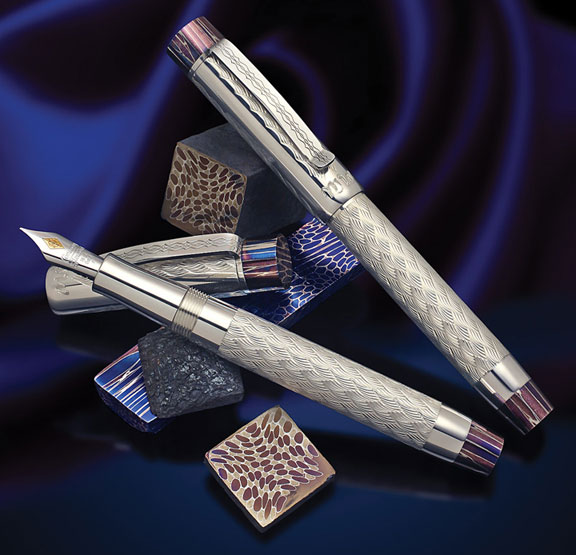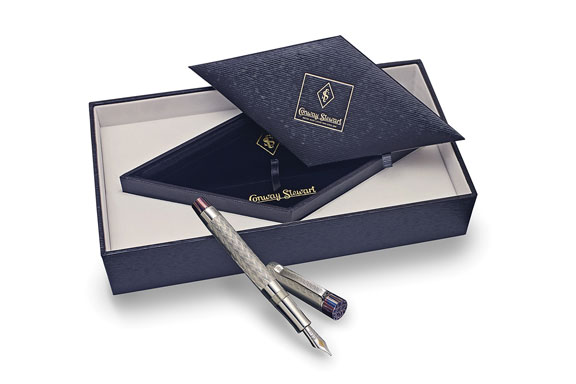 You can order a special solid Damascus pen stand for your RR1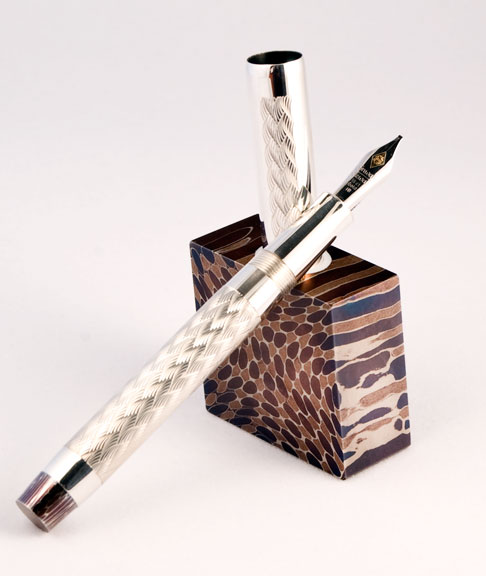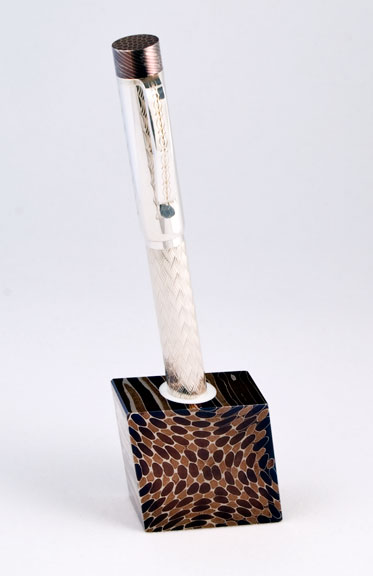 ___________________________________________
The pen below is one made from solid Chris Marks Damascus (not for sale)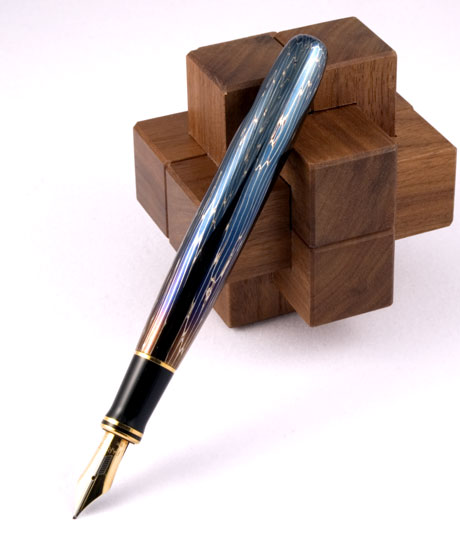 _________________________
The following is an exerpt from the Conway Stewart Collector's Club July 2010 edition:
Which pen do you like and why?
…
"Mort (Epstein) - I have a couple that are my favourites. The first being the MetalWrite RR1. When I first saw the pen, I thought it was beautiful. I love the guilloche engraved sterling silver, and think the craftsmanship that went into this pen is second to none. The Damascus steel stoppers, really sets the RR1 off. The most important thing about the RR1 is I love the way the pen writes. The Conway Stewart nib on this pen is very smooth and consistent. I also love the fact it comes with a Roller Ball conversion. There are times I may not want to write with a fountain pen, and the Roller Ball makes it quite handy. Basically you get two pens for the price of one. There is one other thing I really love about the RR1. That is the fact it is a true limited edition. With only 18 made, the RR1 owner has a unique writing instrument that will give them a lifetime of writing excellence. I can't wait until the RR2 comes out. I know it will be another great edition to MetalWrite and its partner Conway Stewart."

…
So, what's a Metalwrite RR2? Here are some pre-launch photos by Bill Riepl: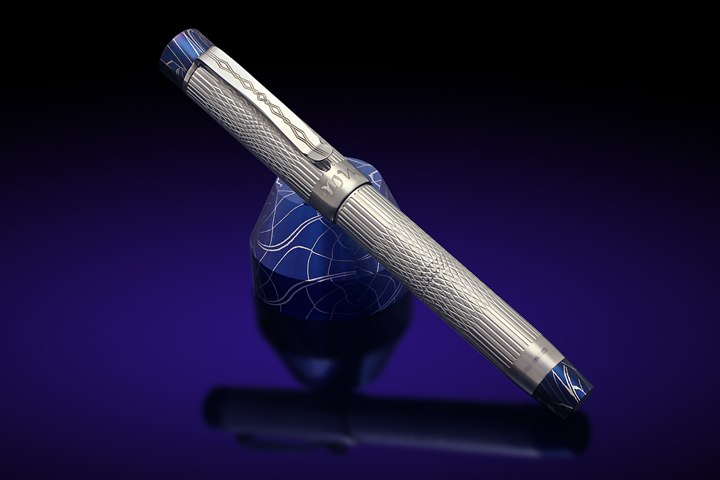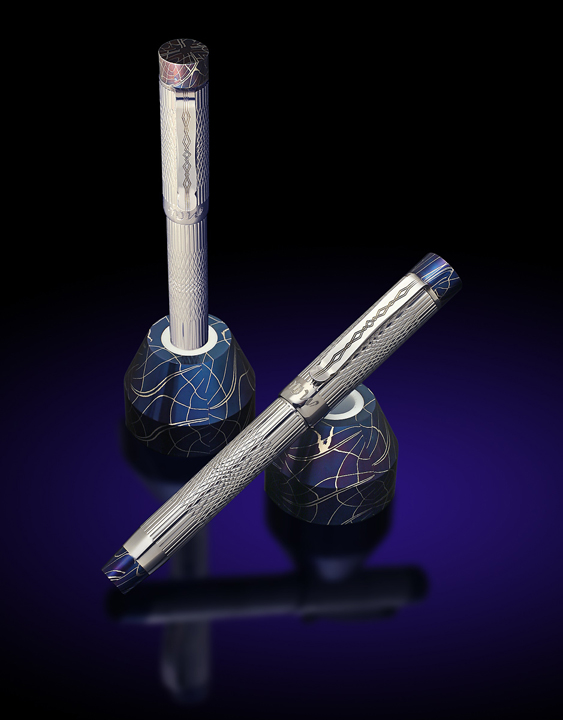 The Damascus here in both the pen end caps (stoppers) and the stands is made by Robert Eggerling.
Eighteen of these will be made - the same number as in the RR1 series.
Conway Stewart Announcement:
"Following the success and 2010 Pen World Reader's Choice Award Nominee RR1 Conway Stewart is pleased to continue the working partnership with Metalwrite -- a respected company known world-wide for their custom made pens incorporating the use of hand turned Damascus Steel.
RR2 is an evolution of its sold-out predecessor RR1, incorporating a new and exclusive hand engraving design on the solid sterling cap, barrel and clip in addition to a different finish of custom made Damascus stoppers."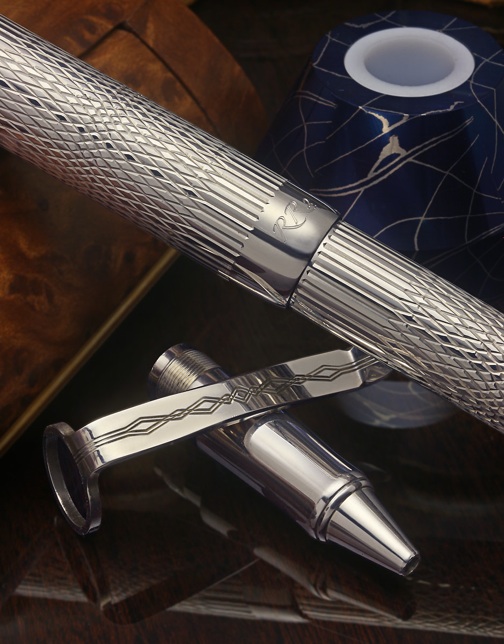 ______________________
The pen below was made on commission from Robert Eggerling Damascus. The pen is large in diameter (18mm) and employs some pre-made internal acrylic gripping section parts. The nose cone was made to fit. The Damascus caps have some unique fluting ground into the ends as an embellishment. The pen can be converted easily to a fountain pen and accommodates a standard 220 Bock nib and sleeve. The clip is made from 2mm thick sterling silver with a simple but dramatic guilloché pattern. This pen is one of a kind and has been delivered.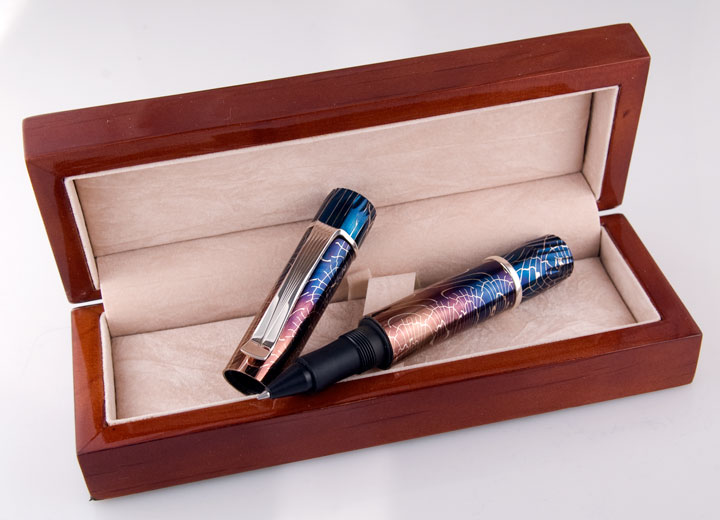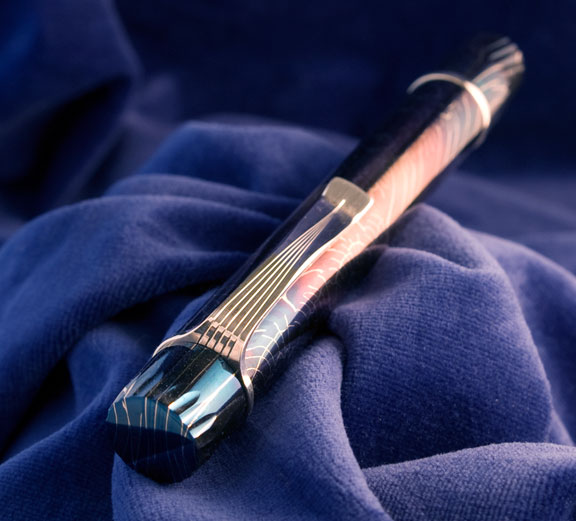 ________
An Orange Nightingale!
This next one is not hand made by me but it is a bespoke color from Conway Stewart. There are only ten of them (they are numbered) and I have the exclusive. It is solid silver with orange enamel and it sparkles in the light. The shape and size is the popular but discontinued Conway Stewart Nightingale design.
The MSRP is $980 but I let them go for less. Call for your price (303) 690 2922